1. Top Features
MAXIMIZE YIELDS & CROP QUALITY:

VF-6-480w led grow light with Samsung 561C & Osram 660nm Diodes, boast the incredible efficiency 2.85 µmol/J, max 2.6g yield per wattage with 35% higher Average PPFD,achieve 50% higher yield & quality compared with the old lights! Only consumes 480W for 5x5ft personal growth, 4x4ft for commerical grow.

POWERFUL DIMMABLE LED GROW LIGHT:

Easy dimming & daisy chain max up to 250 lights, External controlled.Wide 6-bar form factor offers even & broad canopy coverage, maximizes your grow space, slim design,simply assemble making it compact,easy to install, IP65 waterproof,make it a flexible high performance commercial grow light for enormous yields.

AMAZING HEAT DISSIPATION:

Low energy consumption VF-6-480W growing light with 6 passive-cooled bars,aluminum heat-sink,no-fan zero noise design,and removable Inventronics Driver equal unmatched performance in heat dispersing & lifespan, drop 50% in electricity bill than HPS lights!

Cannabis Precised FULL SPECTRUM GROW LIGHT: Yield Max Spectrum with enhanced red(Top-Bin Samsung 3000k-5000knm, Osram 660nm Deep Red,UV IR),speed up blooming & fruiting,suit for Cannabis full-cycle growing.VF-6-480W LED grow lamp, born for Big Buds,widely suit for commercial,home,grow tent,grow room, hydroponic, soil growth.
BEST SAMSUNG DIODES COMMERICAL GROW LAMP: SmatFarm VF-6-480W has Top Bin Samsung Osram Diodes,combined with remarkable 2.85 µmol/J Efficacy,35% higher Average PPFD,50% less energy consumption,to maximize your yields & profits.Trusted 5 years warranty.
  2. Product Specifications
Item

VF-6-480

VF-6-640

LED bar qty.

6x LED bars

6x LED bars

Product Size

800*800*77mm

1100*1065*77mm

N.W.

9.50KG

13.00KG

G.W.

10.50KG

14.50KG

Power Watt

480W

640W

LED source

Samsung 1638pcs xSMD5630+144pcs x SMD3535

Samsung 2184pcs xSMD5630+192pcs xSMD3535

Packing size

980x250x240mm

1180x250x240mm

Application

Vertical farming

Vertical farming

Hanging Height

15cm-25cm

15cm-25cm

Driver

Inventronics/Meanwell driver

Beam angle

120 degree

Waterproof level

IP65

AC input

100-240V AC

Working tempt.

-20°~ 40°

Control

Control by external controller, maximum 250lamps
3. Spectrum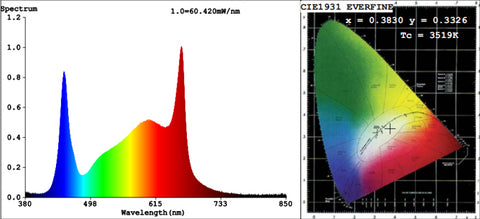 4. Control
4.1 Control Diagram:


 4.2 Control function:
-Timer setting
- Dimming control
- For Large Application up to 250units
- Perfect simulation of Sunrise and sunset
5. Preparation
Improper transportation may harm or can even cause damage to LED lamp and power housing box). In case of obvious damage or incomplete scope of supply, please refer to your vendor and Haulage company immediately.
Please handle and unbox the LED lamp with care! Check the delivery contents for completeness first. A detailed list of the product range is contained on the inner cover in this manual.
Through transport or due to a long storage time, the LED-modules might get a little polluted. Therefore we recommend to clean the modules before each use with a dry and soft tissue.
 6. Installation Instruction
Step 1: Put driver box on flat table / ground upside down;
Step 2: Slide first single bar into bracket, plastic part can be fixed together with Bracket tightly by buckle;
Step 3: Connect power cable to each and every LED Bar
Step 4: Same steps for other bars.
Last Step : Hanging the lights and then connecting the power supply.