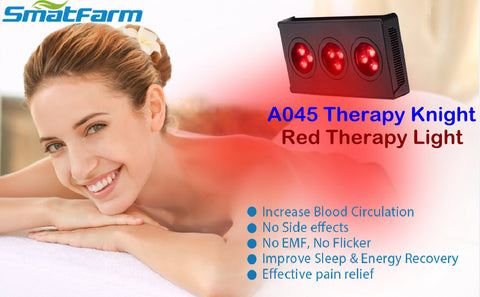 【Effective Infrared Light Therapy Device 】660nm and 850nm two channels with timer dimmer. 18pcs 5W Dual-Core LEDs, higher efficiency and brighter. A045 red therapy light can 0%-100% dimming and timer suitable for any body pain / inflamed tendons
【Touch Control with Timer and Dimmer】45Watt infrared light with touch control for physical therapy equipment. Built-in timer and dimmer is easy and flexible for different use: red light therapy for body face, and light therapy energy lamp. Optical lens ensure healing effect
【More Safety and No Worry Burn Skin 】24V output external adaptor, more safety than 110VAC to lamp. Silent fan and heatsink inside for better heat dissipation and low noise. Ensuring optimal LED working condition and no heat in light box therapy, no worry burn hand or skin
【Flexible Multiple Application Methods】A045 therapy red light has three use ways: Hanging, Holding in hand, Upright desktop. No heat on the surface of red light panel make it can closer to skin. Enjoy red light therapy at home anytime and any way you want.
【Two Years Warranty without any Worry】Two Years Warranty and No Reason return in 30 days. Full-time customer service, all Emails and messages will be replied in 24 hours! Please contact us if you have any problems or suggestions for A045 red light therapy device
A045 Led Red Light Therapy Lamp
High 45 Watt with Programmable Modes
A045 red LED light therapy device is a perfect light therapy energy lamp for pain relief, improve sleep, energy recovery and better mood. We focus on Biological lighting from 2015, include therapy light, grow light, and aquarium light.
As red light therapy lamp, A045 features:
 True Power Draw: 45watt±5%

18pcs High Power 5Watt Epistar LEDs

2 channels, Five gear (20-40-60-80-100%)

Build-in timer with different mode setting. Timer:10-20-30-40min-ON

Lens Angle: 45°with deep penetration

Plastic shell, never scalding skin

External adaptor 24V safe to lamp

Working Temperature:-20~45℃
 Dimension:
 Size: 220(L)*110(W)*30mm(Thick)

Weight: 0.8kg

Package size:252*149*95mm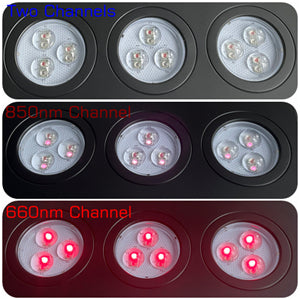 Two Channels with 0-100% Dimming
A045 Programmable Power Mode for different effective red light therapy treatments.
A045 has two channels:
 A: 660nm deep red

B: 850nm near infrared red
 Each channel can be dimmed 0-20-40 -60-80-100% as you want. Flexible and Easy use.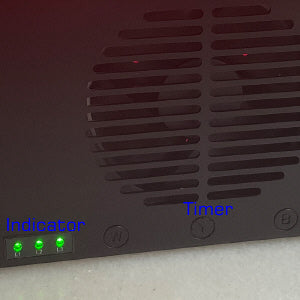 Build-in Timer and Flexible Modes
A045 Programmable Timer Mode for different effective red light therapy treatments.
 Build-in Timer

Timer 10/20/30/40min or always on

Three indicators show working time

Set timer by touch.
 Flexible time setting, easy and simple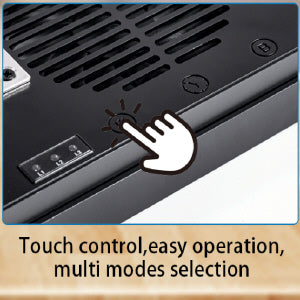 Touch Control and Indicators
A045 infrared lamp helps pain relief, muscle recovery and improve sleep.
 Three touch keys, set light by touch

Three indicators show working time

Channel Power output 20-40-60-80-100%

Set power wattage and timer based on different treatments and demands
 Flexible use, suitable for different needs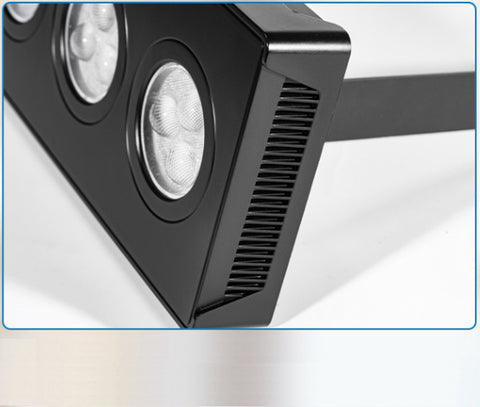 Plastic Housing,No Heat Outside
A045 is plastic housing with heatsink inside, fan for cool to get low temperature
 Longer lifespan than other lamps

No overheating causes skin burns

Irradiation dose can be increased closer to the skin
 A045 red light lamp is a very good infrared light therapy for pain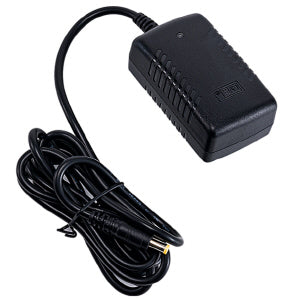 External Adaptor,Safety Voltage to Lamp
A045 therapy lamp has external adaptor power supply,24V DC safety voltage output to A045 Body.
No worry about electric shock caused by electric leakage. A045 red lamp can also as red light therapy for face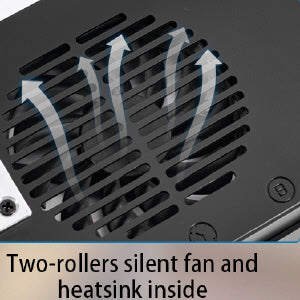 A045 Red Light with Silent Fan
A045 Red Light has two-rollers silent fan, noise standards lower than 40db(A), fast heat transfer
Create you a comfortable home environment. Fan only work when led bulb on, it will stop work if led does not work.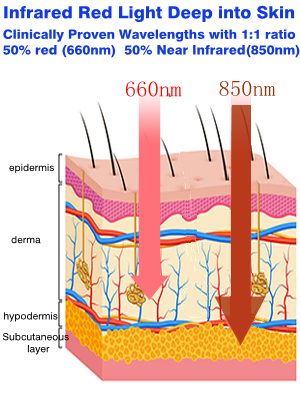 How Red Infrared Light Therapy Work
Clinically Proven Wavelength at the ratio 660nm:850nm=1:1
SmatFarm red light therapy lamp has both 660nm (Red) and 850nm (NIR), two specific wavelength light.
Studies have shown these two specific wavelengths have the greatest biological impact on the human body cells.
Red light is best for superficial skin treatments, as its most energy is absorbed by skin.
Near infrared light is best for treating deep tissues such as joints, muscles, and even the brain, because of strong ability to penetrate deeper into the human body.

660nm is absorbed at higher proportion by skin tissue. It can increase energy production, reducing inflammation and speeding healing, while it's also useful for a variety of skin issues and non-toxic.

850nm has strong ability to penetrate deeper into tissue, organs and joints,can enhance muscle recovery and reduce joint pain. warming and penetrates deeper into living tissue, useful pain relief.

A045 red therapy light support 660nm Red Light + 850nm Near Infrared Combo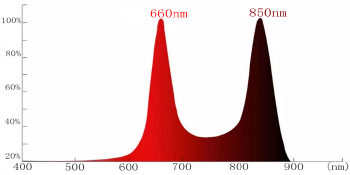 A045 Red Light Therapy Lamp Spectrum
A045 Therapy Light can be used for health and wellness includes muscle recovery, pain relief, decrease inflamed tendons, arthritis pain, healing wounds, reduce inflammation , workout recovery, joint health,hair growth, more energy and in good mood.
Please note: 850nm is very dim or can't been seen by naked eye.

Please note: Indoor use only, not water-proof.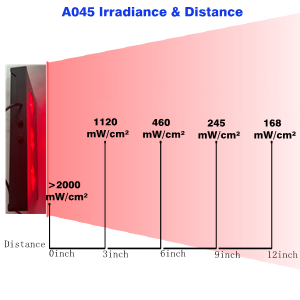 A045 Irradiance & Distance
A045 Light Therapy Range and Dose
Irradiance is a measure of power output. A high irradiance is crucial for effective red light therapy treatments. A045 is around 10 joules per minute from 12 inches away. For skin and topical treatment, it need 3~10J per treatment area. For deep tissue treatments, it need 10~50J. This means with A045, all you need is about 10min.
Irradiance of A045 at different distance:
1120mW/cm² @3" 67.2Joules/cm² per minute
460mW/cm² @6" 27.6Joules/cm² per minute
245mW/cm² @9" 14.7Joules/cm² per minute
168mW/cm² @12" 10.0Joules/cm²per minute
Dose
Dose is Joules/cm²=(Irradiance*treatment time)/1000. If a person get treatment from 12inch for 1min, the dose=168*60/1000=10.08Joules/cm²
Dosing is very importance, it can not too little or too much.Too little the effect is not obvious. Too high, you are actually losing some of the benefits. So please calculate dose you are receiving in Joules.