G5 AquaStar-95W Dimmable Timing Aquarium Light- 6 LED Channels for 27"~39" or 70~100 cm Aquarium Marine Reef Tank
Designed and made for 27"-39" or 70-100 cm coral tank.
Built-in oled display and touch control (Brightness, Power On/Off, Night Mode, Dimmer, Timer, System, Group)
6 dimmable channels to control light intensity for SPS/LPS/MIX coral.
---Channel A 14000K Cool White
---Channel B 450nm Deep Blue & 457nm Dark Blue
---Channel C 430nm Light Blue
---Channel D 420nm Violet+410nm Violet
---Channel E 3000K Warm white
---Channel F 500nm Green
Full spectrum. Perfectly simulate natural sunrise and sunset.
Smart two-rollers silent temperature controlled fans to fast heat transfer and ensuring optimal LEDs' working conditions for longer lifespan. Noise standards is lower than 44.7 db(A). G5 OLED display turns off automatically to save energy.Runs cool and never warm up the water.
Comes with bracket and everything. Easy to install within 3 minutes.
Grouping function for big tank. One master G5 control all slave G5.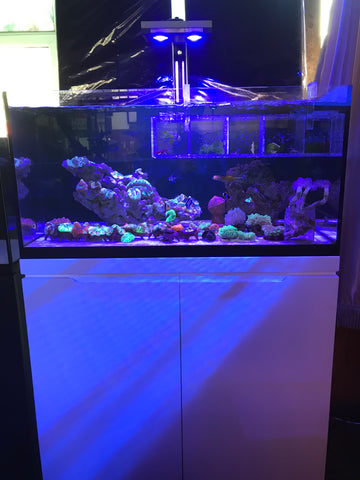 Please Note: Custom Tax not included,only product price.